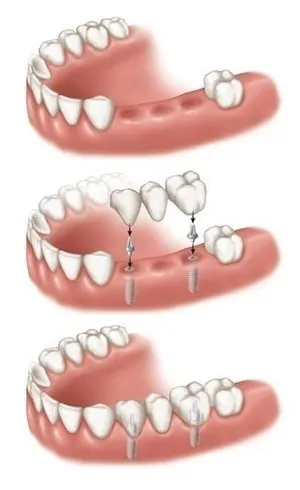 Bone Replacement
There are three types of bone replacement used to assist people suffering from bone loss or those requiring extraction:
Autogenous Man Made Bone Replacement: A freeze dried material that is made in the laboratory.
Cadaver/Animal Bone Replacement: Bone that is preserved, processed and sterilized from a deceased individual or animal source.
Grafting Bone Replacement: Bone taken from another area of the body, such as the iliac crest section of the pelvis.
Platelet-rich growth factors can help induce rapid bone growth and healing. It is used in bone replacement and offers rapid healing properties. Bone replacement performed by clinicians today is more refined than in the past and can be more easily assimilated into the existing bone structure.
Caries Detection Solution
Caries detection solution is a liquid red dye that is applied over a tooth to confirm that all tooth decay is removed from an affected area that has been treated. This solution is very similar to plaque disclosing tablets that are used after brushing to highlight any areas you missed or that aren't thoroughly cleaned.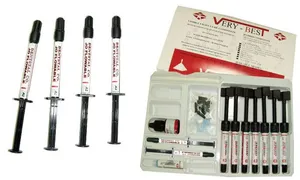 Composite Materials
Composite resin materials are now used in some veneers and other restorations, to fill cavities and to bond onto or rebuild a tooth. Composite resins offer a tooth-like resolution and have grown in popularity over the years. They are continually being improved and refined to better replicate tooth colors, to be easier to apply and to hold their shape without slumping off the tooth. The handling of and the speeds associated with curing composite resins, coupled with the translucent qualities of the newer materials, has helped to produce beautiful natural looking results.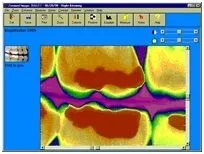 Computer Digital Radiography (CDR)
Digital x-rays can now be taken using sensors that transmit the image directly into a computer monitor. This larger image helps the patient understand the doctor's explanations more easily and enables the doctor to "zoom in" on a specific area of the tooth. An important advantage to this new technology is that it reduces the amount of radiation by 90%. Digital x-rays are also faster. The digital image only takes a minute or two to appear in the monitor. In addition, this new technology is friendly to the environment since no chemicals are needed for developing the image.
Dental Imaging Software
Dental imaging software allows us to simulate cosmetic and other procedures so you can see the effect on your smile before we start! We take digital pictures of your teeth and then use a sophisticated computer simulation program to create the projected "after" images.
Dental Implants
Dental implant technology continues to improve. Mini-implants can now accommodate small tooth replacements. The bio-integration of the titanium tooth root with human bone is completely predictable. The results are very long lasting. The industry has also focused on reducing treatment time and some implants can be placed immediately after tooth extraction as opposed to waiting six months after extraction. In many instances, dental implants are now the standard of care if a tooth needs to be extracted or if there is a question as to whether a root canal procedure should be done.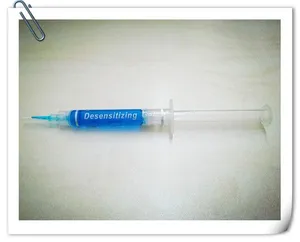 Desensitizers
Desensitizers can be used by your dentist or hygienist prior to dental treatment if you have sensitive teeth, so that you are comfortable throughout treatment. Desensitizers can be used alone or in conjunction with other pain and anxiety relief modalities such as a local anesthetic or sedation dentistry.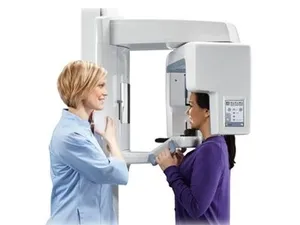 Digital Panoramic X-Rays
Panoramic radiography, also called panoramic x-ray, is a two-dimensional (2-D) dental x-ray examination that captures the entire mouth in a single image, including the teeth, upper and lower jaws, surrounding structures and tissues.
The jaw is a curved structure similar to that of a horse shoe. However, the panoramic x-ray produces a flat image of the curved structure. It is typically set to provide details of the bones and teeth.
An x-ray (radiograph) is a noninvasive medical test that helps physicians diagnose and treat medical conditions. Imaging with x-rays involves exposing a part of the body to a small dose of ionizing radiation to produce pictures of the inside of the body. X-rays are the oldest and most frequently used form of medical imaging.
Unlike a traditional intraoral x-ray where the film is placed inside of the mouth, the film for a panoramic x-ray is contained inside of the machine.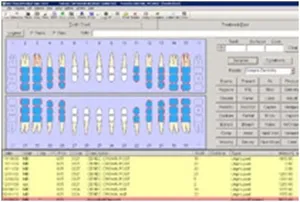 Electronic Dental Records
Electronic Dental Records are an integrated part of our practice management system. Our paperless system delivers electronic charting, digital imaging and enhanced case presentation where it is needed most...at chair side.
Email & Text Confirmation/Communication
At Lewelling Dental Care we believe that communication is the key to a good relationship. We also understand that different modes of communication work better for different people. This is why we offer our patients the option for text message and email communications in addition to, or in place of, standard confirmation calls.
IntraOral Camera
An intraoral camera is an indispensable diagnostic and educational tool. The tiny video camera moves around inside of your mouth and generates a tooth by tooth video exam of your teeth. Using an intraoral camera allows patients to better understand their dental needs by seeing what the dentist sees and then having it explained.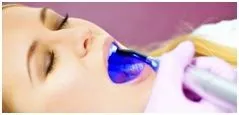 Lasers
Lasers offer reduced discomfort and in some cases, a suture free option for the treatment of benign tumors, cold sores, crown lengthening, decay removal, gummy smile changes, dental fillings, tongue tie and speech impediment improvements, nerve regeneration for damaged nerves and blood vessels and scars. Lasers may also be applied in the treatment of select dental conditions such as sleep apnea, certain cases of TMD and tooth sensitivity. This is a very exciting area of development in dental technologies. Lasers use light energy as their method of operation, resulting in a shortened and almost painless healing period.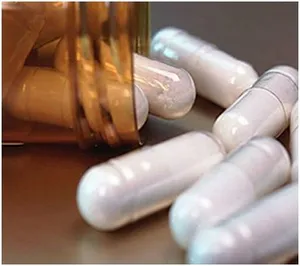 Periodontal Antibiotics
There are "site specific" antibiotics that are designed to concentrate the treatment in specific locations. Periodontal antibiotics are applied directly to the diseased site, enhancing the effectiveness of treatment for periodontal disease.
Spectra Caries Detecting Laser
The Spectra is a special camera that can detect the amounts of bacteria in the grooves on the biting surfaces of your back teeth. Using the Spectra allows us to detect cavities earlier, which means we can use the smallest and most conservative fillings possible to fix the tooth. Your hygienist may take pictures of your teeth with the Spectra during your cleaning.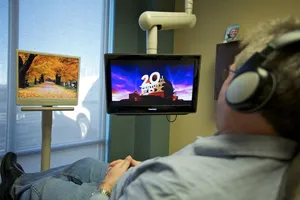 TVs and Headphones For Patient Comfort
We have a television set located above the patient's head. This is so that s/he can watch a favorite program, movie or just relax to some music.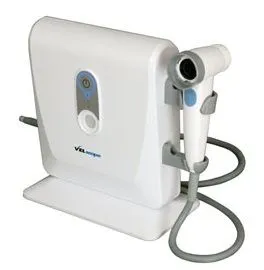 VELscope
VELscope is a brand new FDA-approved oral cancer screening system that uses incandescent light so your dentist can see abnormalities that may not be apparent or visible to the naked eye. VELscope is also used by oral surgeons to help identify diseased tissue around a lesion and determine the appropriate margin for surgical excision.